Hello again, this is the time of year when a lot of us take our summer vacations, and in fact I am writing this as I sit in the sun on mine.
Modern technology is fantastic, in fact I have only just come away from my computer after having a video call from my father over 3000 miles away, amazing! The Internet, as well as modern transport is truly making the world a smaller place.
While on vacation it is interesting to observe different countries eating habits and compare them to our own. I am in the USA, land of the giant steaks, and while I am here we are sampling the local cuisine. The first thing you notice is the quality of customer service. Over here they really do know how to treat customers with courtesy and great service. At Wilsons we do try hard but we could still learn a thing or two from our American cousins.
The second thing you notice are the large portion sizes. In fact unless you are prepared to leave some food on your plate you will put on weight just with the sheer volume, never mind the calorie loaded accompaniments. They do like sweet glazes and sauces, and without some self control it will show on your waistline. (note to self: must start exercising when I return home)
As well as perfectly cooked steaks, the other popular meat dishes are, pulled pork and slow cooked flat brisket. These are usually served with a BBQ sauce and are extremely tasty. The beef and pork just falls apart and is so moist and succulent.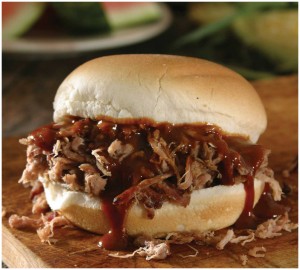 You only have to look at the new restaurants in Leeds like "Reds" to see how popular slow cooked BBQ food is now in the UK, and this can easily and economically be done in your own kitchen. Admittedly, pork is more economical than beef but both are worth the effort. As already mentioned the beef cut to use is brisket and for the pork it is best to use boneless crop from the shoulder. I have added a recipe below for pulled pork, the beauty with something like this is that you just stick it in the oven and forget about it for 5 hours. Give it a try, it is ideal for a family gathering, one for the lads on match night or just a lazy Sunday BBQ.
Classic Pulled Pork
Cooking time:6 hours.     Serves: 6 people
Ingredients
1.6kg (3lb 8oz) boneless pork shoulder joint
2×5 mlsp (2 tsp) sea salt
2×15 mlsp (2 tbsp) dark brown sugar
1×15 mlsp (1 tbsp) smoked paprika
2×15 mlsp (2 tbsp) American mustard
Method
Preheat your oven to 220°C (fan 200°C), Gas Mark 7. Line a roasting tin with a sheet of foil large enough to cover the pork later. Loosely fold the foil back for now. Pat the pork dry with kitchen paper and place in the tin.
Mix the salt, sugar, paprika and mustard. Gently massage half the mix all over the pork and put it in the oven for 30 minutes leaving the top uncovered so it browns beautifully.
Turn the oven down to a laid-back 150°C (fan 130°C), Gas Mark 2. Remove the roasting tin and fold the foil over the top of the pork. Pop it back into the oven and let it cook lazily for about 5 hours or until tender. And now relax, the day is yours.
Crank up the oven to 220°C (fan 200°C), Gas Mark 7. Uncover the pork to crisp for 10 minutes. Take it out of the oven, cover with foil and let it rest for 30 minutes. While the pork is taking it easy you can too.
Shred the pork (in the cooking juices) into chunky pieces with two forks. Add the reserved seasoning mix and stir well. Serve with crusty rolls and coleslaw or a side of potato wedges and corn on the cob.
http://www.wilsonsbutchers.co.uk/