You may have recognised Wilsons' very own John Green starring on BBC Radio Leeds earlier in the month. Reporter Charles Heslett played pie-making apprentice in our bakery to celebrate British Pie Week on Richard Stead's morning programme. The live broadcast featured a quick guide to making pork pies, as well as interviews with John about the company's past, present and plans for the future. As a man who's never short of words, he didn't find this much of a challenge! To follow-up Charles' visit, we shot our own short film showing how we make our award-winning pies. This proved to be a big hit on social media, receiving over 13,000 views. Hollywood blockbusters, watch out! You can see the video here or on our Facebook and Twitter page.
This month also saw the first of our 'Wilsons Easy Teas' range. Our Roast meals for 2, succulent double chicken breast or juicy belly pork, are presented on a bed of fresh spring vegetables, all coated in delicious citrus garlic oil. They're perfect for a relaxing evening in; when you don't want the hassle of labouring over a hot stove.. or any washing up! The rustic vegetables really give this dish a Spring feel; a great one to eat on the light evenings we've been having (even if they have been preceded with a bit of rain and even snow!) Make sure you give one a try on your next visit.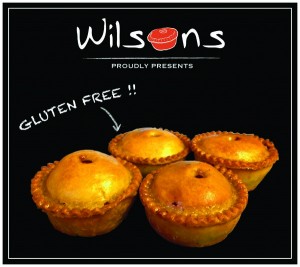 Having sold our famous Pork Pies for nearly 30 years now, we were thrilled to announce a recent benchmark in Wilsons' history. As of last Friday, we are happy to inform our Coeliac and Gluten-free customers, that our long awaited Gluten-Free Pork Pies (and Gluten-Free Steak Pies) are finally available in our Crossgates store. It has been a long and laborious process to produce a Gluten-Free pie, which still has the same distinctive taste as our traditional pork pies that are synonymous with the 'Wilsons' name. We feel confident in the new product and are glad to finally be able to offer our coeliac customers their own pie option. So far, we've received some great feedback. Come in and try one – we'd love to hear what you think. And, be sure to share the news with any coeliac friends, as we know that tasty gluten-free treats are slim pickings!
Lastly, keep an eye out for our BBQ packs, making an appearance in our shop soon as the weather continues to improve. And, with the rugby season now in full swing, don't forget to come see our lovely lads (and lady!) for a heart portion of pie and peas at our pie van in Headingley Stadium. Come on, Rhinos!