Welcome once again to our regular Wilsons update. We are absolutely delighted to announce that on 2nd July at the Meat Management Awards, we were named Britain's Best Butchers Shop.  We set off to the awards hoping that we had a chance in the face of some impressive opposition, so when the announcement was made that we had won, we were gobsmacked! It was all the better because we had taken our families along as well as our Mum and Dad. I think they really enjoyed seeing Andrew and myself going up to collect the award.
Also this month we have taken delivery of our new uniforms. We have gone for a more continental look and we hope you like them as much as we do. The weather has really picked up since the last edition and the shop has gone barbecue mad. We have been selling some really good value barbecue packs for £10 and also have a cracking deal on our home made burgers at 10  for only £8. This has also caused a rush on our home made bread cakes so we have had to ask Matthew & Shane at the bakery to up production. Obviously times are still hard but it is surprising what tasty products you can get at very competitive prices.
Our Moroccan kebabs are really tasty and always go down well, as do our flavoured  boneless pork sirloins and flavoured chicken breast steaks. Add to this our freshly made sausages in assorted flavours and our range of finest quality burgers and you can put together a great assortment without breaking the bank.  Talking of burgers, our six ounce Texan Grills have just been named in the Telegraph news-  papers top ten burgers in the country. Made with a spicy oil and freshly chopped chillies mixed with ground beef, these burgers are delicious as well as filling!
Andrew has just launched his new hand carved ham this month and it is flying out of the counter. These whole hams cooked on the bone are so moist and tasty that the slices are, although slightly thicker, ideal for rustic sandwiches or even for serving on their own with a salad. Even though we have to carve them by hand and it takes longer, I am sure they are destined to become a regular, popular line in the deli counter. Try some for yourself!
Bon Appetit John & Andrew Green
Introducing Our Staff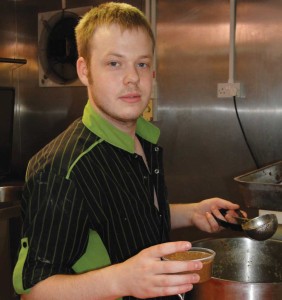 Lewis has been with us now for 6 Years. He came to us straight from school and has learned his trade along the way including gaining his NVQ level 2 in Butchering. Lewis plays an important roll producing the mouthwatering products you will see in our counters. He is mainly a man behind the scenes but whenever required he also serves on the counter. Lewis has also very kindly volunteered his services to work on Sundays because he enjoys his work so much!!
Away from the shop Lewis's interests are, tattooing, playing football and keeping lizards.