Most people celebrate their 40th by going out for a drink or a meal. Others are a bit more adventurous and might go away for the weekend or even tick something off their bucket list – hot air ballooning or driving a racing car, that kind of stuff.
Not many elect to put themselves through the best part of two weeks of physical torture and rope their mates in to share the agony. But that's how Richard Stroud has decided to celebrate his big 4-0 and along with Dave Scampton, Paul Hogan, Dave Jacques and Ken Billingham – they're cycling from Lands End to John O'Groats, starting on June 4th and (hopefully) finishing on the 14th. And they're no spring chickens either, Richard is the youngest of the team and Dave Jacques the oldest at 63.
They've called themselves the Yorkshire Puddingz for this ride, although they're all members of Garforth Velo Cycling Club.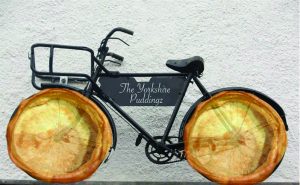 "We're all from Yorkshire and our partners say we're all puddings so we thought it was a good name. The only problem was we had to call ourselves Yorkshire Puddingz as Yorkshire Puddings was taken on social media.
It's not the first time they've undertaken a marathon cycle ride, having already done the East to West coast to coast ride and Leeds to Liverpool on the canal paths but this one is a step up both physically and mentally.
"It's an average of 85 miles a day, so we're training hard for it now, doing between 150 to 200 miles a week. We've chosen the  hardest route, it's all up hill going South to North y'know!"
In case you're wondering why they are undertaking this madness, it's all in aid of Yorkshire Air Ambulance.
"We've seen it come out to Dalby Forest and a couple of other cycling events, so it's a charity dear to any cyclists heart plus we're all getting on a bit so you never know when you might need it!"
And if anything does go wrong, they've a support van driving with them, which will carry parts for the bikes as well as a first aid kit. Ken who works for Helplink has managed to get his employers to donate a fuel card for the support van, which has been kindly donated by GAP Rental, who have also made a sizeable donation.
"I think we ought to give a special mention to Paul's partner Lesley who is giving up two weeks holiday from work to drive the support van and also a big thank you to Sylvia for setting up the Just Giving page and social media side of things."
The lads hope to do an online blog if they're not too knackered which will include pictures and videos of their ordeal, so, if you've never seen a grown man cry or at least grimace in pain make sure you log on to their social media. And while you're there, why not send a few quid their way, it's a great charity being supported by a set of great blokes with their hearts in the right place.
twitter: #yorkshirepuddingz  

Just giving: TheYorkshirePuddingz
find us on: Facebook