We have been producing East Leeds Magazine for over 10 years now and are pleased to make our previous editions available for you to view.
John & Ali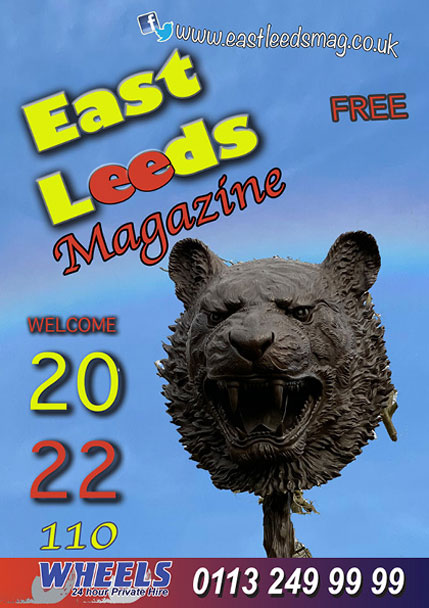 Tyger, Tyger, burning bright, In the forests of the night, What immortal hand or eye. Could frame thy fearful symmetry? In what distant deeps or skies Burnt the fire of thine eyes? Tangerine Dream's Tyger from 1989. There's a certain symmetry to issue 110 being the first issue of 2022. And according to the Chinese Zodiac, 2022, the year of the water tiger will bring about positive change. And angel number 110 is a very powerful spirit number and a reminder to have faith not only in yourself but in your guardian angels. Which all sounds very positive after a difficult last two years for just about everybody. Maybe a few guardian angels have already arrived in the form of the Crossgates and Whinmoor Community Hub which is based in the Arndale (Crossgates Shopping Centre to give it's Sunday name.) The hub is managed by Cross Gates Good Neighbours Scheme CIO through Leeds City Council and is something really positive for the area. Happy New Year from all at ELM
Flip Book »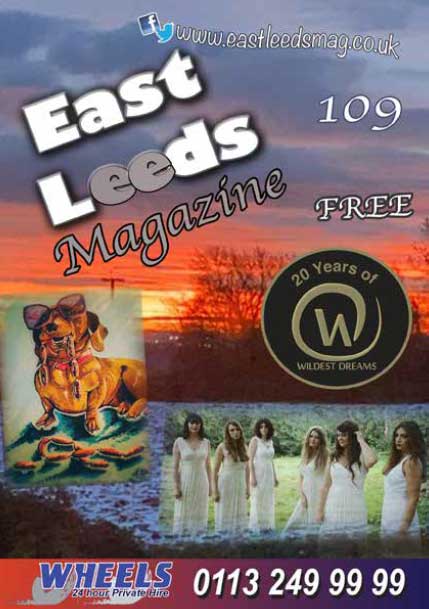 Blow, northerne wind, Send thou me my sweating. Blow, northerne wind, Blow, blow, blow! Ichot a burde in bowre bright. That sully semly is on sight. Menskful maiden of might. Fair and fre to fonde, In all this wurhliche won. A burde of blod and of bon, Never yet I nuste non. Lussomore in lode. Ancient English text, an old traditional poem brought to life by the magnificent Mediæval Bæbes on their 'A Medieval Christmas' album. And they're gracing Leeds on 10th of December at what should be a truly special concert. We've a competition for two tickets, have a look at the article on page 32. Which kind of reminds us, we are approaching that time of year again. With the cancellation of the lights switch on and the German market, Alan C's come up with a great alternative. And Lee Murtagh's found himself with a bit of spare time over the winter months, so he's busy making another film, 'for the laugh!' And they say laughter is the best medicine, so as we approach another Covid affected yuletide, it's probably just as well to say Merry Christmas and a very, very Happy New Year, from all at East Leeds Mag.
Flip Book »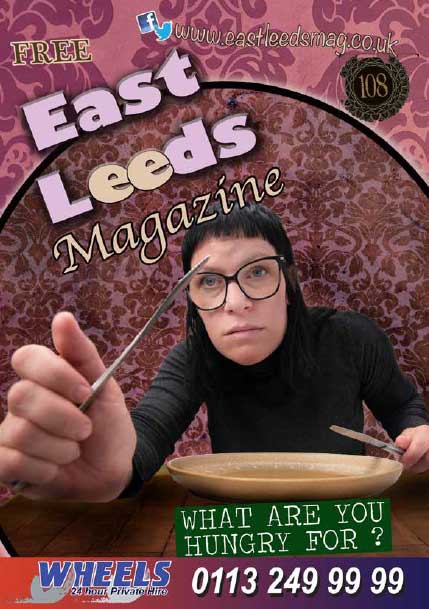 I'm just a man who's battling with his mind. One hundred and eight battles within the Minds forever changing what you began Life's a waste of time, Battle with your mind.
Kula Shaker's '108 Battles' from their Peasants, Pigs & Astronauts album in 1999. A sacred number for many Eastern religions, In Buddhism, this number is reached by multiplying the senses smell, touch, taste, sight and hearing, with positive & negative, past & present …6 × 3 × 2 × 3 = 108.
There are 108 pressure points in the human body. 108°F is the internal temperature at which our body's organs begin to overheat. The distance of Earth from the Sun is about 108 times the diameter of the Sun. The distance between the Earth and the Moon is also about 108 times the diameter of the Moon. In Homer's Odyssey, the number of suitors coveting Penelope, wife of Odysseus was 108. There are 108 outlaws in the Chinese classic the Water Margin and there are108 lines in Edgar Allan Poe's "The Raven". And, this is the 108 issue of ELM.
Thanks, a 108 times, from all at ELM and a 108 thanks to Mark Hillyer – truenorthuk.com for cover photo. Oh, and a 108 thanks to Ann for editing.
Flip Book »